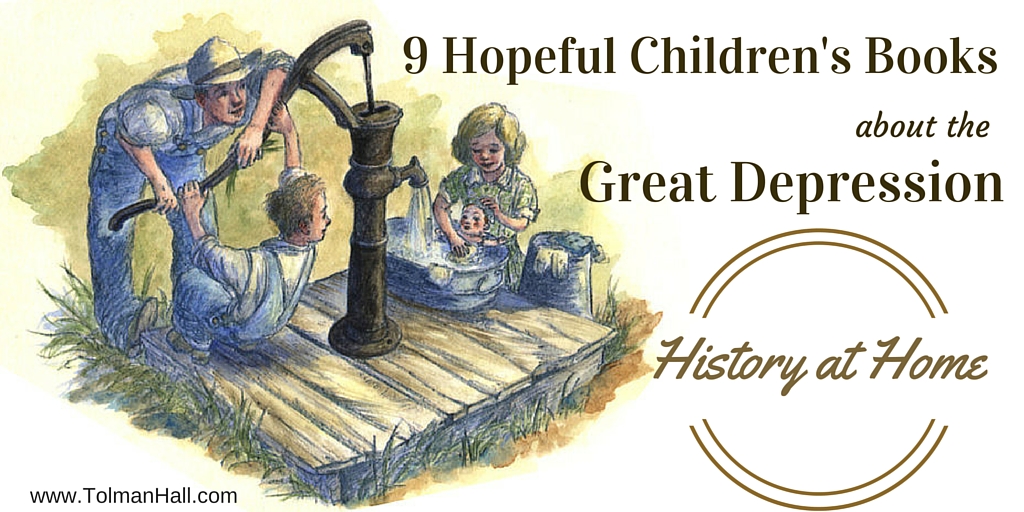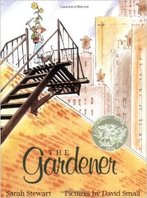 Learning about the Great Depression? Don't miss out on these 9 fantastic books. You'll find something for everyone, from picture books to powerful novels. As you study the Depression, make sure you pick up a copy of
Tolman Hall's Moon Over Manifest unit study
!
The Gardener
Sarah Stewart
Picture Book
Grades 2-8
Lydia is sent away from her family's farm during the Depression to live in New York City where she works in her uncle's bakery. She misses her family terribly, and we get to read her letters home.
Dust for Dinner
Ann Turner
Early Reader
Grades 3-6
A family falls victim to the Dust Bowl, and they consequently lose their farm. They set out for California and a new adventure. Vocabulary is simple—this is a good book for emerging readers.
The Babe and I
David A. Adler
Picture Book
Grades 2-4
Set in New York City in 1932, this story is about a boy who learns that his father isn't really going to his job every morning; he's selling apples on the street because he has lost his job. The boy then learns how to help his family by selling newspapers near Yankee Stadium.
The Storm in the Barn
Matt Phelan
Graphic Novel
Grades 3-10
This well-constructed graphic novel is set in the American Heartland during the Dust Bowl. An 11-year-old boy faces bullies, a rascally little sister, and a sinister villain. Written like a tall tale, this is one suspenseful story.
Roll of Thunder, Hear My Cry
Mildred Taylor
Novel
Grades 5-9
Set in Mississippi, this Newbery winner tells the story of the Logan family as they face violence and discrimination during the Depression.
Moon Over Manifest
Clare Vanderpool
Novel
Grades 4-9
Abilene Tucker has been riding the rails with her father, but he sends her to a town called Manifest, Kansas, where she doesn't know a soul. She feels abandoned, but the people of the town welcome her in. Soon she is investigating a mystery and learning about Manifest's colorful history. Don't miss
Tolman Hall's literature unit study
for
Moon Over Manifest
—a month of great literature curriculum.
Nothing to Fear
Jackie French Koller
Novel
Grades 4-7
The Rileys and Garveys are Irish immigrant families living in a NYC tenement building. Daniel has to take on adult responsibilities and earn money to help his family and care for his sister.
Bud, Not Buddy
Christopher Paul Curtis
Novel
Grades 4-8
Bud walks from Flint to Grand Rapids, Michigan, in search of the man he believes to be his father. People lend him a hand along Bud's heartwarming and unforgettable journey.
Year Down Yonder
Richard Peck
Novel
Grades 4-8
The 1930s were tough for people everywhere, and Mary Alice has to stay with her grandmother for a year while her parents give up their home. This book is hilarious.
What are your favorite children's books about the Great Depression? Leave your thoughts in the comments below.