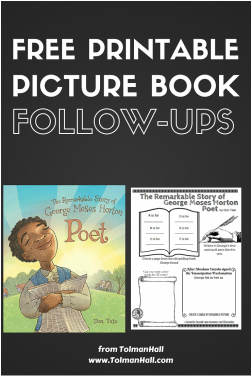 We think you'll like this Tolman Hall Follow-Up.
Don Tate's
The Remarkable Story of George Moses Horton
tells about a young man who loved learning but wasn't given opportunities or time for education because he was born a slave. Through persistence, creativity, and hard work, George was able to learn quite a lot, and in the end, he gained his freedom as well.
You can craft a whole lesson around or unit around George Moses Horton's story, or you can just read it and let your kids explore the Follow-Up while you get some of your own work done.
Don't forget to check out
Don Tate's website
. He has some fantastic
downloadable activities
and discussion guides, and you can see slideshows of some of his artwork--he's very prolific!